And the SATC cover blitz begins!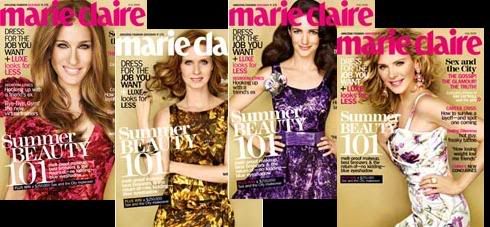 Coming off of the huge success of the first shoot for the SATC movie last year, Carrie, Miranda, Samantha, and Charlotte will be shooting separate Marie Claire covers once again.
A source assures that it's purely a creative decision, not because Sarah Jessica Parker, Kim Cattrall, Cynthia Nixon and Kristin Davis wouldn't pose together. So retract the claws and silence the whispers.
"[Marie Claire] did this for the 'Sex and the City' movie and had great success," says the insider. "It was a really great creative scheme, so it makes sense to do it again."
I personally would love one cover featuring all the ladies together...preferably in their characters fabulousness. ACTUALLY, I would KILL for a Carrie & Co. VOGUE cover. Maybe that's just me.
What do you guys think? More importantly, SATC diehards-- Will you buy all four issues?
[images are from last year's shoot, for the first SATC Movie.]