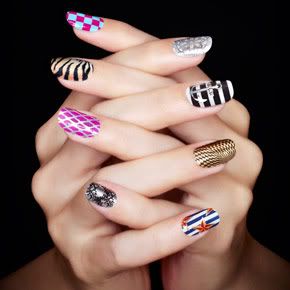 Well thank the Lord of Manicures, for they have heard our Jersey girl cries.
Outrageous nails are a part of our culture. Jersey girls will miss a family reunion but never skip a nail appointment. Our talons must be flashy, bodacious and audacious.
Luckily for everyone, (especially us)
Sephora
by
OPI
has introduced a series of nail decals that include checkerboard, chrome lace, and skulls, along ith many other designs. One set includes sixteen nail decals with an adhesive back that is heat activated. Simply rub the decal on your nail to activate the glue and you're ready to be fabulous!
Like minx, minus the hefty price tag.